I need no excuse to make biscuits except, perhaps, the word "biscuits." That's all it takes to get me going. Making these simple quick breads is one of my favorite things. From blending the cold butter (or whatever fat) into the dry ingredients to doling out the dough, either in rolled-and-cut or drop versions, I'm nearly euphoric with the whole process. And eating the results is just the cherry on top!
I love a good drop biscuit. No rolling, no cutting, and they tend to have a softer, more tender composition, likely due to less handling. Just scoop the dough out in even rounds for delightful little puffs to serve with breakfast or any meal.
I tend to be not-so-adventurous when flavoring my biscuits, although I've livened up a few batches of a favorite drop biscuit recipe with cheeses and herbs (and even sweetened some to top a cobbler). So I was intrigued by the drop Chipotle Cheddar Biscuits from "Baked: New Frontiers in Baking," by Matt Lewis and Renato Poliafito (2008) on the Baked Sunday Mornings recipe schedule.
The recipe calls for a whopping tablespoonful of smoky chipotle chili powder and a teaspoon of black pepper. So these would have a little kick, for sure! As I mixed up the dough, I felt like I was going boldly (for me) where no biscuit I had made had gone before.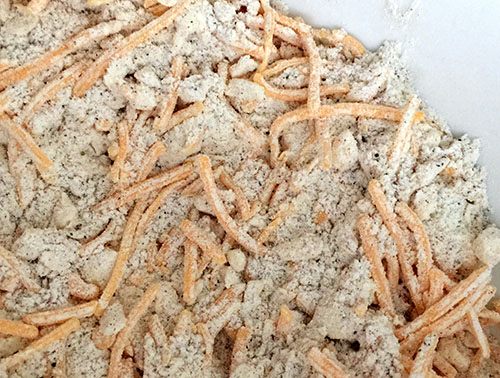 I thought that the two cups of sharp cheddar cheese and the buttermilk would add a tang — along with the sweetness of some sugar in the dry ingredients — to balance out all the flavors.
The dough was a perfect drop biscuit consistency, thick but scoop-able, with visible shards of cheese showing and a nice golden color throughout from the chili powder. I made my biscuits slightly smaller than directed and ended up with 24. A little sprinkle of salt on each one, and into the oven they went.
The biscuits baked up to a deep golden color, with a glossy sheen, likely contributed by the egg whisked into the buttermilk. Biting into one, I noticed the nicely crisp exterior, in part from stray strands of baked cheddar.
These biscuits do have a bite…the first one seemed particularly spicy, with the wave of heat coming just after the other flavors. I didn't mind, but I considered reeling in the chili powder amount in future bakings (which there would be) for those less heat-loving. For my own spin on things, I wanted a little more sweet…I added butter and a drizzle of honey to these delicious savory gems, much as I would to a cornbread. It was delightful on top of the smoky spice and tangy cheese. And I considered Chipotle Cheddar Biscuits as an accompaniment to future chilis, soups and stews, and salads. Or just on their own would be fine.
Check out the recipe at http://bakedsundaymornings.com/2018/05/10/in-the-oven-chipotle-cheddar-biscuits/ .