Plums are so unique and uniquely summer. Their subtle sweetness, spicy and floral, extends beyond that into a spectrum of flavors, depending on the type of plum or plum cross (plum/apricot, plum/cherry), with hits of tartness and soft notes of apple, berries and citrus.
I look forward to plum season every year, our farmers market being a Mecca for a rainbow of plums, from the greenest gold to red to blue-black. I take joy in eating these juicy gems just sliced on a plate each evening as "nightcap." Or in finding new and delicious recipes to celebrate their flavor, color and texture.
I'd long had my eager eye on the Pear Plum Crisp on the Baked Sunday Mornings recipe schedule (for the recipe, go to http://bakedsundaymornings.com/2019/08/02/in-the-oven-pear-plum-crisp/). I love pears, too, and the combination of these delicate, yet potent-flavored fruits under a crisp topping was alluring, to be sure.
I had a tough time deciding on a plum to use in the recipe, so I had to try many samples at the farmers market (darn), finally setting on the golden-red, sweet-with-a-hint of tart pluot (an apricot-plum cross). It's still a bit early for pears in the markets here, so while I could not find Bosc pears, I did find some large and sumptuous Bartletts, green with a hint of blush.
Outside of prepping the fruit, this recipe comes together easily, the cut pears and sliced plums are mixed with orange and lemon zests and juices, cinnamon, nutmeg, brown sugar and flour.
The crisp topping follows a traditional method of blending flour and butter, brown and white sugar and oats, mixing by hand until the butter is evenly distributed and the mixture has a crumbly texture. I did add a little salt to the flour in this…it wasn't in the recipe, which said to use unsalted butter, and I thought the topping could benefit from it.
I spread the juicy fruit filling into my smallish, oval casserole dish, then sprinkled the topping evenly over the surface.
The crisp became a nice golden brown after 45 minutes in the oven, and while there was no visible bubbling under that blanket of crisp, I could hear the sounds of sizzling fruit. It smelled heavenly.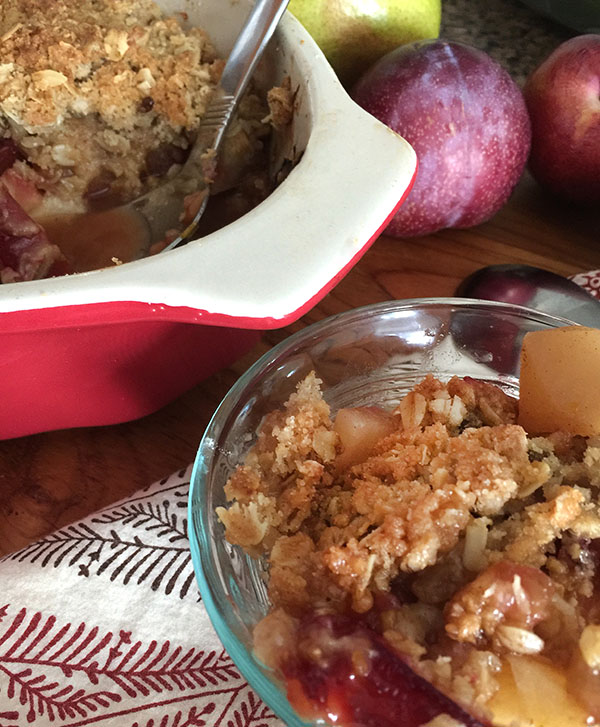 Though it was recommended (and would be delicious) to serve this with ice cream, I opted for something a little lighter — some sweetened whipped cream. I really wanted to taste the fruit (maybe I'd try ice cream on a later serving).
I treated myself to a dish, still warm. The crisp topping was perfect in texture and taste, just crunchy and crumbly enough, buttery with just the right amount of brown-sugar sweetness and a little spice. The pears were tender, yet held their firmness; the plums were quite soft, but added a recognizable ruby flash here or there. Both fruits nestled cozily in their released juices that, together, became an elixir of the finest tastes of summer and, just a hint of fall.
Blogger's Note: You'll find the recipe for Pear Plum Crisp at Baked Sunday Mornings: http://bakedsundaymornings.com/2019/08/02/in-the-oven-pear-plum-crisp/