Amazing, when a recipe can restore one's faith…in oneself, in taking risks, in trying something new, despite doubts. I tried a recipe recently that, by my accounts, seemed not only unlikely to work but definitely would not work under my hands (even with AWS's experience at cooking and baking, she still surprisingly and disappointingly lacks confidence). Yet, there I was, on the precipice of trying a recipe out for an Instagram cookbook club, and had next to no faith that it would be a success.
The recipe for Glazed Root Vegetable Tarte Tatin was a scheduled "assignment" for a wonderful online cookbook club for @rainydaybites from a selected cookbook called "Christmas Feasts and Treats" by Donna Hay. I fell in love with the cookbook. It was beautiful and creative and inspiring, and I had successfully made another seemingly impossible recipe from it for a gingerbread cookie garland. Some of the measurements in the recipes are even in metric, and I surmounted that little hurdle.
The tarte tatin recipe drew me in with its use of all those delicious flavors of sweet potato, parsnip, turnip and carrots that are cut in rounds of equal thickness and roasted, drawing out their sweetness and depth of flavor.
Where my main doubts came in involved making a sugar-and-water caramel that was to be spread on the bottom of the roasting pan as a base for the vegetables. One batch of my caramel failed, crystallizing — I believe — from too much stirring (there should actually be little to none once the mixture begins cooking) and too-rapid cooling via (perhaps) the red wine vinegar that was added at the last. I handled the second batch more carefully, and it seemed to work, although it stiffened up quickly and resembled hard candy. I thought this whole process seemed strange for a savory recipe. But who was I to question it?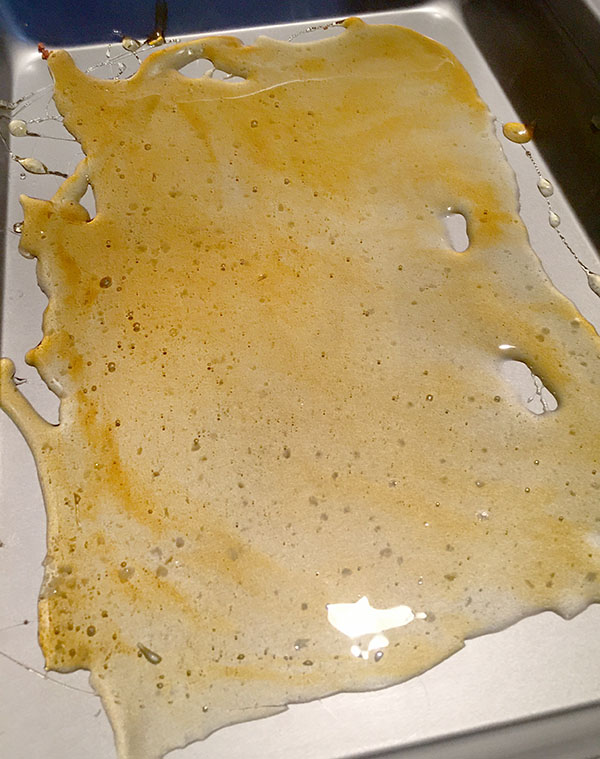 I arranged the colorful rounds of roasted vegetables (I had even employed tricolor carrots) on the sheet of glassy caramel, trying to be artful with the placement and yet still picturing that the final unfolding (unmolding) of the dish would end with sticky vegetables clinging to the pan and a falling-apart mess. I shouldn't be so negative…I tabled my doubts and remembered the cookie garland and gave myself over to this recipe.
A scattering of fontina cheese (I could not find the recommended stracchino) was distributed between the root rounds, and would hopefully provide a rich, creaminess to the tart. Atop the vegetables, I layered a generous (two packages) amount of puff pastry to be the eventual base of the tarte tatin, then put everything in the oven. The wait had me considering my potential ineptitude of upside-downing, although I had achieved success in upside down cakes and tarte tatins in the past.
I pulled the tart, hidden beneath its golden brown pastry, from the oven and allowed it to cool a bit, full of wonder at what had (and would) transpire after 40 minutes of baking.
The moments I wait for in the kitchen are like the ones that happened as I flipped the tart over on a cutting board and lifted the pain. A full and very audible gasp escaped me…what a thrill! A beautiful thing, this tart, from my own hand, and I had in that moment been restored. If I was capable of this thing, what else could I do? Or couldn't? When a recipe does that, my friends, it is not merely a recipe, but some magic formula of transcendence. This rainbow of glistening, golden vegetable rounds, shining, resting on a thickness of buttery crust, scatterings of roasted and fresh lemon thyme for garnish. It tasted about as good as it looked, serving as bright treat for a dark winter night. And a brightening of a dark winter soul.
Glased Root Vegetable Tarte Tatin
From "Christmas Feasts and Treats" by Donna Hay (Fourth Estate/HarperCollins; 2018)
Serves 6 to 8
2 medium carrots, peeled
2 medium parsnips, peeled
2 small sweet potatoes, peeled
2 turnips, peeled
1/4 cup extra virgin olive oil
Sea salt and cracked black pepper
1/3 cup water
1 cup caster (superfine) sugar
1 tablespoon red wine vinegar
100 g stracchino, sliced
4 sheets forze butter puff pastry, thawed
1 bunch lemon thyme (about 6 sprigs), to serve
Preheat oven to 425°. Slice the carrots, parsnips, sweet potatoes and turnips into 1 cm-thick rounds. Divide between 2 oven trays, drizzle with olive oil and sprinkle with salt and pepper. Toss to combine and roast, turning halfway, for 30 minutes or until golden and tender.
While the vegetables are roasting, place the water and sugar in a medium saucepan over medium heat and cook, stirring, until the sugar has dissolved. Increase the heat to high and cook without stirring, for 6—8 minutes or until light caramel in color. Remove from the heat and carefully add the vinegar, stirring to combine. Working quickly, pour the caramel evenly into a 24 cm x 37 cm roasting pan. Arrange the vegetables on top of the caramel, overlapping if necessary and top with the cheese. Place the 4 sheets of pastry over the top of the vegetables (pastry will overlap) allowing 2 cm to overhang around the edge of the pan. Gently press the overlapping pastry to seal and tuck int eh overhanging edges.
Reduce the oven temperature to 400°. Place the tart on an oven tray to catch any spills and bake for 20 minutes. Reduce the oven temperature to 350° and bake for a further 20 minutes or until the pastry is puffed and golden. Allow to stand int he pan for 5 minutes before inverting onto a board.
Top with the thyme and cut into squares to serve.
Blogger's Notes: I baked my tart in a 13- by 9-inch cake pan. I sprinkled some of the lemon thyme over the caramel before topping with the veggies to bake with the tart. For the cheese, 100 g equals about 3.5 ounces…I used the semisoft and flavorful fontina; other cooks have recommended using gorgonzola cheese for this tart, as well.