Shortbread is pretty much my favorite cookie. Just a few ingredients (usually a basic blend of butter, sugar flour and salt), it's easy to make and despite its simplicity, rewards with rich flavor and isn't too terribly sweet. It's virtually fail-proof, too. I'd say over-baking is the biggest risk to good shortbread, which benefits from ending up just barely golden-brown and a bit underdone, securing its tenderness and taste.
Basic shortbread can also be a palette for a wide array of variations. I've made a delightful lavender shortbread (see my blog post of June 2014: http://www.womansconed.com/?p=694), using fine-textured rice flour and dried flower buds to infuse delicate flavor. And an annual Christmas favorite is Art Smith's Pecan Shortbread (see my blog post of December 2013: http://www.womansconed.com/?p=694), a slice-and-bake cookie made even more rich and delicious with finely chopped pecans and a hint of cinnamon.
I understand how easily and effectively shortbread can take on a range of flavors, so I was eager to try a new variation in a recipe I found from Real Simple magazine.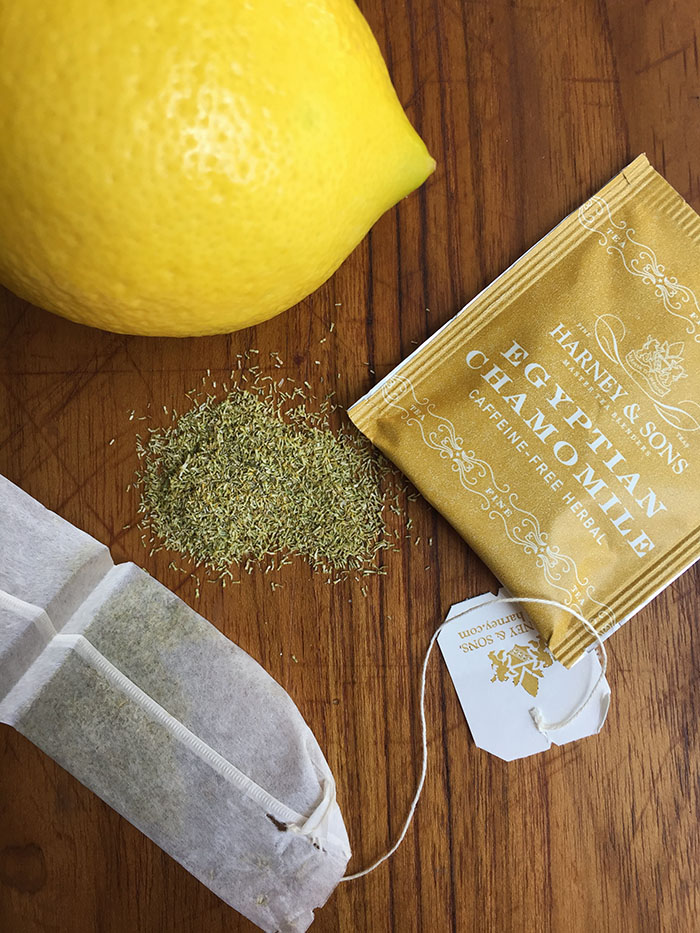 Lemon-Chamomile Shortbread sounded like the perfect light cookie for the warming days. I love the subtle flavor and calming effects of chamomile tea and drink it almost nightly. That, combined with a little citrus lift of lemon zest, would seem lovely in a buttery shortbread.
Here, dried tea (I used the fine leaves from one tea bag) and lemon zest, as well as the flour, are added to creamed butter, sugar and salt. All are mixed until just blended.
That is pretty much it for mixing shortbread (see how easy it is?). For this recipe, this easy-to-handle dough is then pressed evenly into an 8-inch square cake pan (I lined mine with parchment for even easier removal). Shortbread usually contains so much butter that the pan does not need any extra buttering, greasing or cooking spray, but recipes vary.
This shortbread bakes at a low (325°) oven temp for about 30 minutes, just getting to a very pale golden stage.
Another key step in many shortbread recipes is cutting the cookies while they are still warm, as the shortbread firms up upon cooling, making the cookies crack when cut at that point. Not all recipes require this, but many do, as this one did. And the cutting involved a twist for these cookies, where squares are cut first, then the squares are cut into triangles…a unique but ideal (for dunking) cookie shape. These cookies cut nicely, and the shortbread had a dense, but fine texture.
Light and lemony with that slightly soft floral bottom note from the chamomile, the cookies were melt-in-your mouth…and disappeared like melting snow. Perfect for teatime or as a side to a fruit dessert (like the rhubarb compote I served mine with…see blog post of May 2020: http://www.womansconed.com/?p=2734), this shortbread is too easy — and too delicious — not to try.
Lemon-Chamomile Shortbread
From Real Simple magazine (www.realsimple.com)
1 cup (2 sticks) unsalted butter (softened at room temperature)
½ cup sugar
¼ teaspoon salt
Grated zest from 1 lemon
1 teaspoon loose chamomile tea
2¼ cups all-purpose flour
Heat oven to 325° F. Combine the butter, sugar, and salt in a mixer and beat until light and fluffy. Blend in the lemon zest, loose tea, and flour until smooth. Press into an 8-inch square cake pan.
Bake 30 minutes or just until the shortbread begins to turn golden. Cut into 9 squares, then cut each square into 2 triangles.
Cool completely on a wire rack. Remove the shortbread cookies from the pan.