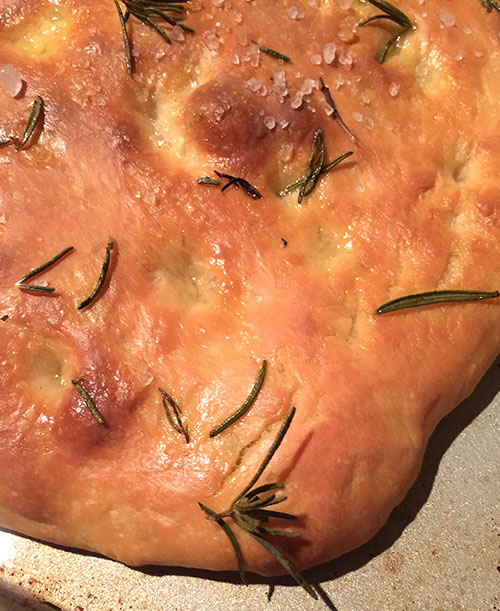 I have always been able to make sense out of things (somewhat) by writing about them. Even still, lately, I have had trouble writing.
It made no sense and yet perfect sense that on a rainy November evening, while I received the news of a loss of life as close to my own as any, I had bread dough, alive and well and rising in the oven.
I let the news wash over me and through me, went outside during a break in the rain for the silence only outside can bring. Listened for signs and heard happy ducks quacking.
I wanted to fold up, but knew that once I did, there might not be unfolding. The bread dough brought me back to duty, if nothing else. It had to be dealt with and was calling out for its own completion.
I was making focaccia (whose word root means something akin to "of the hearth"), one of the simplest yeasted breads on the Italian bread roster. Like pizza dough, but not, it was another one of those creatures concocted of the same ingredients as a thousand other creatures (really, aren't we all made up of a lot of the same things), yet was its own distinct animal.
Like pizza dough, yes, but less-kneaded, focaccia has a denser, more tender texture and generally thicker than a pizza crust. It is light, yet kept weighted on top by deliciousness, nearly always saturated on the surface with olive oil and then everything from herbs, tomatoes, cheese, olives or any of a number of imaginings to one's liking.
Having recently revisited one of my favorite movies, Big Night I had chosen writer/director/actor Stanley Tucci's focaccia recipe from his cookbook, "The Tucci Cookbook" (2012). I trusted Tucci; just watching him in that film, it was clear he was skilled at cooking, and beyond the film, I knew of his reverence for good food. His focaccia gave instructions for both kneading the dough by hook and by hand (I chose the former), and he gave the options for a range of toppings. I chose the simplest.
I love rosemary. It grows everywhere in my yard successfully with no coddling from me and finds its way into much of what I cook, so it was no big decision for me to choose Tucci's option of topping the focaccia with rosemary and sea salt. Simple and delicious works for me.
My favorite and most meditative part of this focaccia making process, was pressing my fingers into the dough, so the indentions can gather the liquid green that is a flavorful olive oil. The rain began to blow outside,and I pushed my fingers deeply into the soft, warm dough, thinking all the while of the strong fingers lost — that had cut hair, flicked teasing thumps at children, dug garden, and left behind prints on a thick sandwich made for airport eating. It occurred to me than, as it does a lot, that while seemingly alone in my kitchen, I am not. Nor will I ever be.
A sprinkling of large flaky sea salt on top and it went into the oven, the rosemary perfuming, the oven warming the house. This was one sad evening, accompanied by the best smell ever. It made no sense. It made perfect sense.
When it was finished, I was told it should be called "foth-caccia" for my lost father. It was a beautiful golden bread, cut in slim lengths and eaten warm. I felt guilty making it, but I knew it had to be finished, and move forward on steps that will be hard to take.
I felt guilty eating it, but it was too good to resist.

Rosemary Focaccia
From "The Tucci Cookbook" by Stanley Tucci (2012)
Serves 10
1 package dry yeast

2 1/4 teaspoons sugar

1/2 cup warm water

2 cups all-purpose flour

2 cups bread flour

4 teaspoons kosher salt

1 cup milk

5 tablespoons olive oil, plus more for oiling the bowl

leaves from one 5-inch sprig of fresh rosemary
In a measuring cup, stir the yeast, sugar, and warm water. Set aside for 5 minutes.
In the bowl of an electric mixer fitted with the dough hook, mix the all-purpose and bread flours with 2 teaspoons of the salt. Stir in the yeast mixture. Gradually stir in the milk and 3 tablespoons of the olive oil.
Mix at low speed until the dough has come together and is smooth (about 5 minutes).
Lightly oil a large bowl with olive oil. Place the dough in the bowl, cover tightly with plastic wrap, and drape a dish towel over the bowl. Set aside in a warm place and allow to double in size, about 2 hours.
Lightly grease a large baking sheet (about 9 x 15-inch). Gently punch down the dough. Place on the baking sheet and roll it out evenly to fit on the sheet. Cover with a dish towel and allow the dough to rise for 20 minutes.
Preheat the oven to 375 degrees.
Use your fingertips to make random indentations in the dough.
Drizzle the top with the remaining 3 tablespoons of olive oil.
Sprinkle with the remaining 2 teaspoons of salt and the rosemary leaves.
Bake until golden brown, about 30 minutes. Allow to cool slightly before slicing and serving warm.

* Variations: Before baking, top the focaccia with any combination of the following: 1/4-inch-thick slices ripe plum tomatoes; 24 pitted kalamata olives, 1/4 cup very thinly sliced red onion; 1/3 cup crumbled goat cheese; 1/4-inch-thick slices of peeled eggplant; 1/4-inch-thick slices bell pepper; 1/4-inch-thick slices zucchini; 1/3 cup pesto.
For a sweet variation, gently press 1 cup dried fruit, such as cherries, blueberries, raisins, or 1 cup chocolate chips into the rolled and risen focaccia. Brush with 3 tablespoons melted butter and bake.