There are some folks who just get the job done. Others say they will do this or that, and don't — they simply collapse back on themselves, and just thinking about the thing they aim to do tires them. Then there are people like Glen Lamontagne, who charge ahead tirelessly, bringing order out of chaos, envisioning something from thin air, constructing out of the un-construct-able.
Glen is a master of efficiency and it serves him well. Where we both work, he sets things and people right. It's his gift. The misconception about such effective types is that they are not creative. Truth is, they are more than creative — they are designing all the time. They are designing systems of organization and master plans of designation. They understand — like many of us don't — how to get from a to z, and even if they tell you how to get there, you stand there dumbfounded and disbelieving.
Glen braids rugs and builds shelves (probably at the same time). He keeps a beautiful house and yard and works full time and goes home and cooks every day (mostly recipe-free) using herbs from his garden and finds time to swim and listen to baseball games (possibly all at the same time). He is a blur, and those of us on the slow train marvel at it.
Knowing of my dabbling in the culinary arts, Glen mentioned a little while back that he was making his own corn tortillas. I said I had seen the prepared "masa" dough in the Mexican markets and wanted to try it. "Why would you get that when you can make it YOURSELF," he said in the way that made me think, goodness, I shouldn't be so lazy. "It's so easy!"
Truthfully, long on my wish list of monthly bread ventures was homemade tortillas. Glen told me the masa dough mixed up swimmingly, and he pressed the tortillas flat between two glass pyrex dishes, then cooked them on his stovetop. Ever solution-oriented, Glen appeared less-then-content with his makeshift press, however, and resolved to (what?!) make one. He began the plan and construction of a homemade tortilla press and I, ever quick on the draw to Amazon and other retail sources, was left wondering why someone would go to the trouble.
He goes to the trouble because the trouble is his muse. It wasn't long before Glen was telling me of his tortilla press constructed out of wood, and I blurted out that I wanted one or else (a threat), I'd go straight to Sur La Table. No need, he remarked, and was gone, leaving me standing alone in his workaday vapor trail. We checked in with each other on the progress of the
hinged press, which he was making out of knotty pine. He asked me what color I'd like mine. I tossed out turquoise for some reason, perhaps because it is one of the signature colors of all things Southwest. How strange, Glen said, because was staining his early models in a bright shade of turquoise.
He gifted one for my supervisor and me in brown paper he had frayed and called "cactus" packages, but, to me, they looked liked some dried corn husks. We were thrilled, but I said I wanted to hold off using the press until Glen could give me a demo.
On a bright Saturday afternoon, I toted my "tortilladora," still unused, back to its creator's place for a "tutorilla." In his home, Glen operated similarly as he did at work, with several things going at once yet all under his watch successfully — jazz music played,
the Giants game was on TV, two cats were playing outside yet still within supervision. Glen's tortilla dough — made with Bob's Red Mill masa harina and recipe — had been resting and was just about ready.
We had enough time for a quick tour down to Glen's workshop, which he calls "garage mahal" where I got to see the prototype of the press.
Back in his kitchen, an airy and open place coordinated into accommodating efficiency, Glen worked quickly to get the tortilla process started. He had made dozens at this point and had the whole system down. He first jabbed his finger into the dough — the consistency of a good solid sugar cookie dough — and spoke to it, "Are you too wet? Maybe. We'll find out." Any good cook certainly — at one point or another — talks to the object of his culinary attention.
He cut the dough into 12 even pieces. He laid some thin, non-stick plastic sheeting on the open press, centered one of the pieces of the dough on the bottom section of the press, folded the top section of the press over it, then used the handle to press down firmly. A perfectly
round tortilla! Glen carefully peeled the tortilla off the plastic and then dropped it into the heated pan, a gleaming cast iron skillet Glen's father gave him when he was 25. Soon a whiff of deep toasted corn. The tortillas cooked up quickly, about a minute per side. Glen kept the growing pile warm in a lidded casserole dish. When we could stand it
no more, we ate some warm and plain and some warm spread with an herbed cheese. They were small and dense, sturdier than tortillas found in the store, but way more flavorful. After we had satiated ourselves (a bit), Glen sent me on my way — he was going swimming — with warm tortillas and more plastic sheeting to make my own.
Making tortillas for the first time in my kitchen, I was humbled to ponder all the wonders and life that throughout history had been sustained on ground corn flour. That dough, with its deep corn aroma, was like a little time and travel machine to other worlds and
other times. You could not ask for a simpler dough — corn flour, salt and hot water. Once its hour resting time elapsed, the corn flour had an opportunity to absorb all the water and fulfill itself to proper consistency. I believe I cut my dough in deliberately inconsistent sizes because I would never compare with Glen in accuracy (and because it is my signature to have things uneven and of different sizes).
I broke out my now beloved tortilladora (which I decided to call "Esmerelda"), and began to press tortillas — hand against wood against corn dough against wood — and cook them in my own old square cast iron skillet. The beauty and physics of the tortilladora is that, no matter what shape of dough you press in it (and I had all
manner of shaps), your tortillas still come out perfectly round! They sizzled and stacked up quickly, filling the air with that dusky corn scent certain kitchens have been lucky enough to know.
Once a dozen tortillas had landed. I used a shredded queso fresco to make simple cheese quesadillas, with all the favorite sides of pico de gallo, guacamole and sour cream.
The tortillas crisped nicely upon their second time in the skillet; the mildly flavored melted cheese only supported their rich flavor.
And I wondered if, had I wanted to (which would be the first big question), I could have ever made a contraption to press tortillas. Ever? Most likely not. I did not despair. Because there are rare folks around who make those kind of plans and follow through. And I'm lucky enough to marvel at one of them.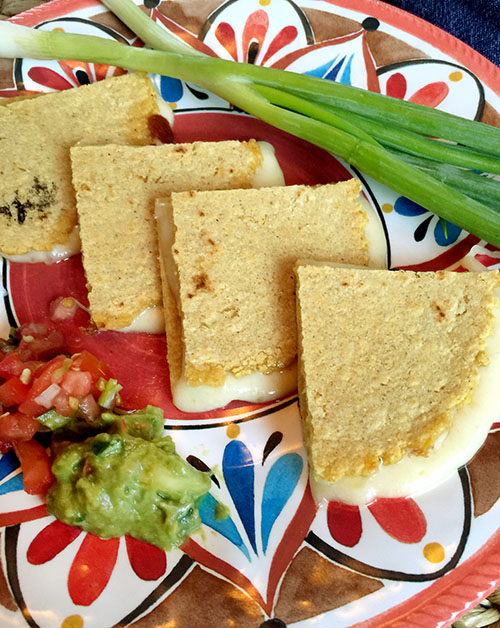 Corn Tortillas
From Bob's Red Mill (www.bobsredmill.com)
Makes 12 6-inch tortillas
2 cups Golden Masa Harina Corn Flour
1/2 teaspoon sea salt
1-1/2 to 2 cups hot water
Mix salt into the masa harina corn flour. Slowly pour the water into the dough to get a good consistency. The dough should be firm and springy when touched, not dry or sticky. Let rest for about an hour, covered.
Preheat a griddle or flat surface. Divide the dough into 2 inch balls. Press dough between two pieces of waxed paper, or flatten according to a tortilla press directions. Place flatten dough on a hot griddle or flat surface and cook until the top of the tortilla starts to look cooked, about 1 minute. Flip to the other side and heat for a few seconds.
Blogger's Note: A good cast iron or non-stick skillet works fine to cook the tortillas.