Certain baked goods win in the comfort category, those old, tried-and-true traditional recipes that make you feel better just to think about them. Homey treats like apple pie, biscuits and chocolate chip cookies have that soothing quality. So, too, in this category are blueberry muffins.
Blueberry muffins have always been there for us, even though we don't often make them (and should…they are easy and quick to stir up). Those golden domes, pierced with dots and sometimes bursting explosions of dark blue berries; buttery (and often buttered). You can't beat them for a quiet moment of peaceful reassurance, via baked good.
In their book ,"Baked: New Frontiers in Baking" (2008) Matt Lewis and Renato Poliafito offer a flavor-ratcheted version of the blueberry muffin that seemed an irresistible recipe to try from the Baked Sunday Mornings schedule. Orange Almond Blueberry Muffins (recipe: http://bakedsundaymornings.com/2019/06/23/in-the-oven-orange-almond-blueberry-muffins/) expand on all that is great about a good blueberry muffin, adding additional layers of flavor and texture. Orange (in zest and juice) and almond (in finely ground almonds and toasted sliced almonds), both somewhat subtle, but effective flavor elements, team beautifully with blueberries here. 
There's more good reason to get thee to the kitchen and make something with these cheerful berries right now. Have you seen the blueberries in the markets this season? They are HUGE…I'm not sure what is going on, but they are the size of grapes. Very alluring. And potentially delicious for muffin-making.
The recipe calls for the flavorful zest of one orange, as well as a half-cup of juice (about the amount of juice in one large, robust orange). The juice, zest, a half-cup of milk, two egg whites and 1/4 cup of melted butter (cooled) are whisked together.
Blanched almonds can be easily ground to a fine texture in either the blender (as I did) or the food processor. They are blended with all-purpose flour, sugar, baking powder, baking soda, salt and also some toasted, sliced almonds.
Idecided to add just a wee bit more of the almond component to the mix with about 1/4 teaspoon of almond extract (which I added to the blended liquid ingredients). It seemed a choice that would support all the other flavors.
This recipe employs a mixing method I don't see often anymore — the "well" method, where a deep indentation is created in the evenly distributed dry ingredients in the bowl. The wet ingredients are poured into this well, then all is mixed together…the method is ideal for recipes (such as muffins and some breads, like biscuits) where you want to get everything incorporated with as little mixing as possible.
When the dough is just mixed, the blueberries are folded in, delicately and deliberately, to keep from crushing and breaking the berries, resulting in blue-green color throughout the dough (although, if it happens, it's no crime). I did skip the step of coating the berries in flour (a trick to keep the berries from sinking).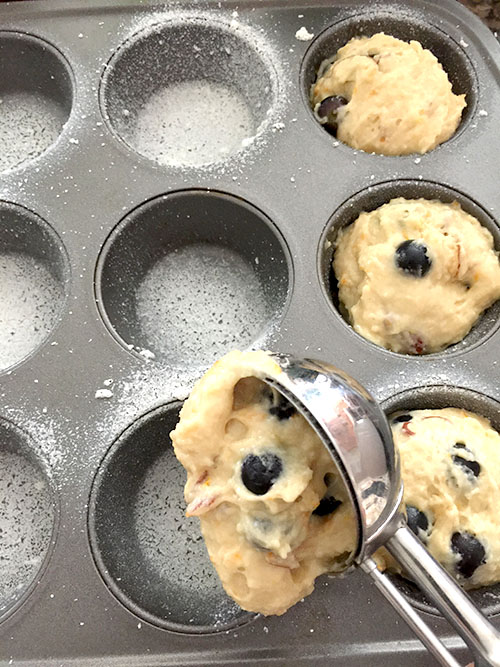 This recipe makes a really thick and sumptuous muffin batter, easy to scoop and distribute among the cups of the muffin tin.
The unbaked muffins get a final sprinkling of a few sliced almonds on top, and into the oven.
In my home ec class from way back when, a successful muffin was one with a rounded top — not peaked, which would indicate over-mixing. These muffins came out perfectly rounded, beautifully golden, with stunning bursts and even rivulets of deep purplish blue from those plump, juicy berries.
Another feature indicating a winning muffin (learned in home ec, too), is a fine inner texture, free of "tunnels," which would indicate not being mixed enough (oh, for an easy-to-make creature, those dang muffins have their precarious balance). These muffins were perfect — sturdy and homey and comforting in their plump, rounded structure, like any good blueberry muffin would be, and tender and moist and buttery inside.
And so flavorfully delicious — the orange, almond and blueberries complemented each other very nicely, it's as if they were always meant to be together.
Blogger's Note: For the recipe for Orange Almond Blueberry Muffins, go to Baked Sunday Mornings: http://bakedsundaymornings.com/2019/06/23/in-the-oven-orange-almond-blueberry-muffins/.