One of my favorite desserts is cobbler, specifically peach…the cobbler of my childhood, made by my mother, with what I feel is the true "cobble" of cobbler — a constellation of thick biscuity dough scattered over a pan of hot, stewed fresh peaches, oozing with warm juices and dotted with butter. Eating it freshly baked or even the cold leftovers I would carve into from the fridge fulfilled all my youthful sweets desires, and I was left sad and longing when the last serving was gone.
That flavor combo memory of buttery biscuit meeting sweet, ripe peach is one that stays vivid, particularly in the summertime when stone fruits are peaking and begging to be baked into something. So when I stumbled across a scone recipe from King Arthur Flour — Tender Peach Scones, where drop scones are studded with chopped fresh peaches (recipe at https://www.kingarthurflour.com/recipes/tender-peach-scones-recipe), I signed on for a baking session with no hesitation.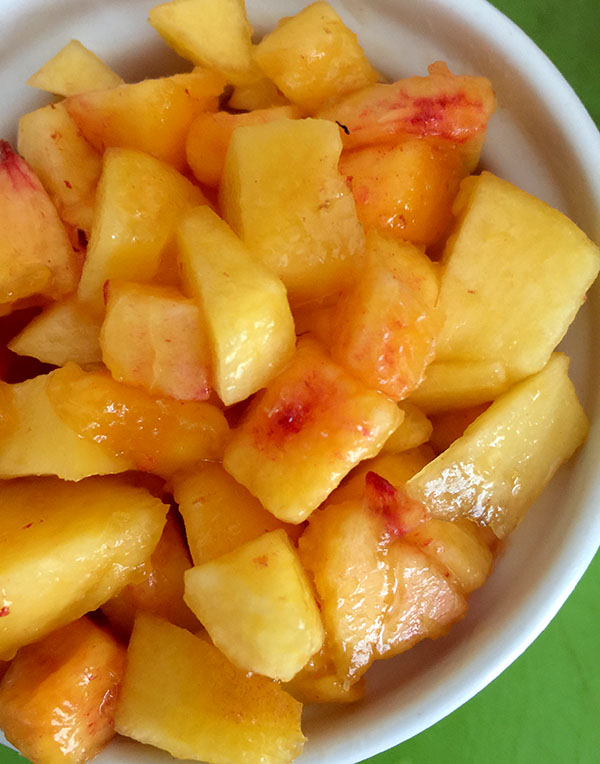 My local farmers market is resplendent with stone fruit right now — nectarines, plums, apricots, pluots — and any of them would have likely worked as the fruit in this recipe, but I stuck with the instructions (and my longing for peach cobbler) and picked up some cling and yellow peaches. The yellow were deeply golden traced with red and very juicy/tender, while the cling were a softer yellow, firm and more tart. I mixed them here for a range of flavor for the scones.
This scone dough is easy to assemble, following the traditional method of cutting cold butter cubes into dry ingredients (flour, sugar, salt, baking powder and a little cinnamon and nutmeg) until the butter is distributed in small, grainy pieces throughout. Here I put my own twist on the recipe, adding the fine zest of one lemon to this dry mixture).
The wet ingredients for the scone are vanilla yogurt, eggs and both almond and vanilla extracts — all are whisked together and added to the dry ingredients, and the dough is lightly mixed until it is just barely cohesive and a tad crumbly.
The chopped peaches are gently folded in, adding a wee bit more moisture and flashes of gold to this rich dough.
One of the beautiful (and easing) aspects of this recipe is that the "shaping" of the scones comes from an ice cream scoop, eliminating the need for a floured board and extra implements to roll and cut them out.
I got eight beautiful mounds of scone on my sheet, and finished them with a sprinkling of crunchy, sparkly sanding sugar.
These scones bloomed up beautifully and held their shape during the baking time (about 20 minutes).
This time, biscuits (scones) are cobbled with peaches, and that golden summer taste of the two meeting brought me somewhere near my peach cobbler past. The scones were beautifully tender, crusty yet moist and nicely flavored with the vanilla, almond, nutmeg and cinnamon. The chunks of peach, enough for every bite, offered an inside-out cobbler in the form of a scone.
Blogger's Note; For the recipe, go to https://www.kingarthurflour.com/recipes/tender-peach-scones-recipe.