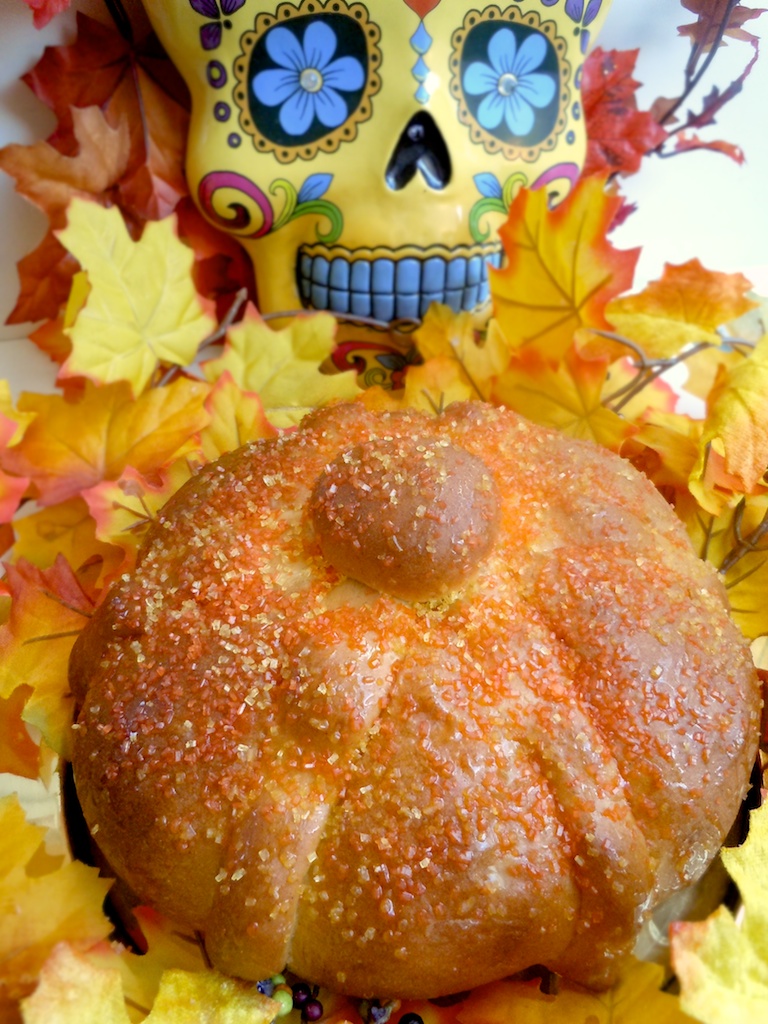 I've long been intrigued by Dia de Los Muertos (Day of the Dead). Halloween is my favorite holiday and in its truest respect, it honors the night that is not only the fine dividing line between seasons, but the barrier — at its thinnest — between the living and the spirit world.
Day of the Dead, celebrated by Mexico and other Latin cultures anywhere between Oct. 31 to Nov. 2, seems to regard this reverence even more definitively. This holiday really honors the dead, something our Memorial Day should do, but in a very festive manner where altars are created for those who have passed, and people visit and decorate grave sites, tell stories and have parties and festivals (www.celebrate-day-of-the-dead.com) . Lively decorations include brightly colored skeletons (also seen in makeup or masks for the holiday) and skulls made of sugar.. Foods are made for living and the dead, including, Pan de Muerto, the bread of the dead.
The bread can be found at Mexican markets and bakeries, but I thought it might be the perfect bread to try and make for the month. The bread can be shaped in different ways, but it is usually a round loaf with some sort of design, sometimes bone-like fingers laid across the top. A few different recipes caught my eye, particularly those that employed citrus and the unusual ingredient of orange flower water.
I actually found this at the supermarket, right next to the vanilla. Happenstance (and happy dance). When I opened it, a soft warm floral aroma drifted forth. Hmmmm.
Having tasted the bread from the Mexican market, I knew it to be of the slightly, sweet, egg-y and buttery, like challah or panettone, with a glaze or dusting of sugar across the top. For the version I made, you begin with strips of orange zest infused in warm milk and melted butter. The eggs and flower water are mixed in (I also added some vanilla). Yeast is activated in warm water.

The bread is mixed up in an old-world sort of way, which I liked. Flour, sugar and salt (I also added some cinnamon) are mixed and put on a large wooden board, then a well is made in the center into which the wet ingredients are slowly poured in and mixed by hand. What fun? I imagined ladies in old kitchens stirring up bread this way.
Then on to kneading. For 10 minutes. As I've discussed before, kneading is not a strong skill for me, but I wanted to do this without my handy dough hook this time. I leaned into the bread. I sweated (not into the bread). And I lasted for 10 minutes with a lovely round of dough.
The first rising of the dough is a lengthy hour and a half, but if all is on your side, you will be happy to see it come to life and expand. Then, the second rising is after the dough is shaped into two loaves. I did one loaf in that traditional pattern with the bones and knob at the top. Then I decided to be a little more individual with the second loaf and made a skull and crossbones for it.

The shaped loaves are put through a second rising. Then, into the oven to bake. I ended up placing some loose foil on top of each during the latter part of the baking as the recipe suggested, so as not to over-brown. No sense killing my day of the dead bread.
After baking, I brush with a warm orange syrup glaze, then a sprinkle of sparkling sugar (this is meant for celebration, after all).
Even though Dia de los Muertos was a week away, I had to try the bread. Eaten warm, it lives up to all a good bread should be…tender and buttery, not too sweet, and a lingering of those intriguing spirits of orange blossom, orange zest and cinnamon.
And on Day of the Dead, I will enjoy the second loaf, holding on steadily for me in the freezer.


Pan de Muerto
Adapted from Fine Cooking (www.finecooking.com)
Makes 2 loaves
1/2 cup whole milk
2-3/4 oz. (5-1/2 Tbs.) unsalted butter, cut into small pieces
Two 4×1-inch strips of orange zest (use a vegetable peeler; avoid the white pith)
1 Tbs. orange blossom water
3 large eggs, lightly beaten
1/4 oz. (1-3/4 tsp.) active dry yeast
15-3/4 oz. (3-1/2 cups) unbleached all-purpose flour; more as needed
1/4 cup granulated sugar
1 tsp. kosher salt
Vegetable oil as needed
Sugar or glaze toppings (see below)
Put the milk, butter, and orange zest in a small saucepan over medium heat; stir until the butter melts, 2 to 3 minutes. Remove from the heat and let cool until warm. Discard the orange zest, add the orange blossom water, and whisk in the eggs.

Dissolve the yeast in 1/4 cup lukewarm water (no hotter than 110°F) and let stand until the mixture bubbles slightly, 5 to 10 minutes. (If the yeast doesn't bubble, discard it and start again with new yeast.)

 Mix the flour, sugar, and salt on a work surface. Make a well in the center. Gradually pour the yeast mixture and the milk mixture into the well while mixing with your hand . Knead until you have a nice, uniform dough, about 10 minutes. The dough should be smooth but still slightly sticky. If it seems too sticky, add more flour as needed.

Put the dough in a large, lightly oiled bowl, cover with plastic wrap or a towel, and leave in a warm place (about 70°F) until doubled in size, 1 to 1-1/2 hours.
Shape the bread:
Cut off a piece of dough about the size of a lemon and reserve. Divide the remaining dough in half and shape the pieces on a lightly floured surface into 2 rounds. Lightly oil a heavy-duty rimmed baking sheet or line it with parchment; put the dough rounds on it and flatten the tops with your hands.

 With some of the reserved dough, form 2 balls the size of large marbles; set aside and cover with plastic. Divide the remaining dough into 6 pieces and roll them with your hands from the center out, making ropes that are slightly longer than the width of the loaves. As you're rolling, press with your index and middle fingers spread about 1 inch apart to make knobs that represent bones. Arrange 3 of the ropes on top of each dough round, overlapping the ropes in the center. Cover loosely with a cloth or plastic wrap and let rise in a warm place until doubled in size, about 45 minutes. 

Meanwhile, position a rack in the center of the oven and heat the oven to 350°F. 

Dab a little cold water on the top center of each round where the ropes meet and put the reserved dough balls on top, pressing slightly so they adhere. Bake until the loaves have an even golden color, 30 to 40 minutes. Cover the loaves loosely with foil and continue to bake until their bottoms are browned and the internal temperature is 190°F, 10 to 15 minutes more. Remove from the oven and cool for a few minutes on a wire rack.
Top the bread:
Brush the loaves all over with some of the melted butter. Holding one from the bottom (if it's too warm, use an oven mitt or a piece of cardboard), sprinkle half of the sugar all over the top, tilting the loaf slightly to help coat it evenly. Repeat with the other loaf and remaining sugar. Or you can make a glaze by combining 1/2 cup sugar, 1/3 cup fresh orange juice and 2 tablespoons grated orange zest in a small saucepan. Boil for 2 minutes, then brush on loaves when they are still fresh out of the oven. Sprinkle with white or colored sugar.
Cool bread to room temperature before serving. The bread is best eaten within a day of baking.
Make Ahead Tips:
The baked loaves can be wrapped in plastic and frozen for up to 2 months.